Great Smoky Mountains National Park straddles the border between North Carolina and Tennessee. Great Smoky Mountains National Park offers fun for all ages; from hiking to biking and beyond. The park encompasses 522,419 acres, making it one of the largest protected areas in the eastern United States.
When planning your trip to the Great Smoky Mountains National Park, first, you will need to decide where you want to stay. Think about if you're seeking a long camping trip or looking to glamp in style? There are numerous different types of campsites and hotel options available, both in and outside of the park.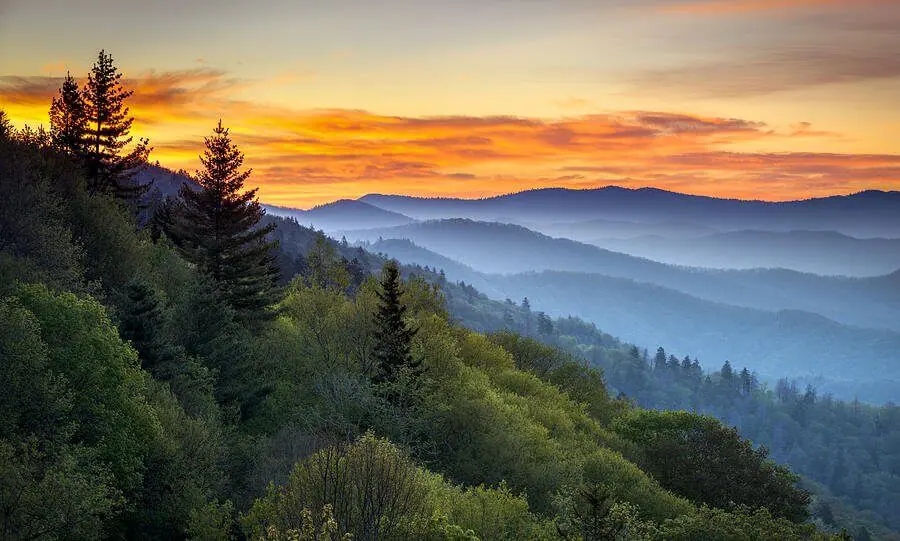 Some examples of campsites include Backcountry, which are nestled deep within the park and are used mainly for backpackers. An easier lodging option would be the Frontcountry campsites, where you can camp near your car in a more developed campground. Frontcountry campsites contain restrooms with running water, a fire grate, and picnic table. There are also Group Campgrounds for groups of eight or more people, located withinin the Frontcountry campgrounds and easily accessible. For those who are equestrian lovers, another option for camping includes the Horse Camps. The 5 horse camps located in the park are accessible by vehicle; horse camps are small campgrounds that offer hitch racks for horses and a basic camp site. If you're not the camping type, but you're willing to hike, there is also the LeConte Lodge; only accessible by foot, the lodge sits atop Mount Le Conte, the park's third highest peak, at an elevation of 6,593 feet. Hiking routes to the lodge can range from 5 to 8 miles in length. The lodge is generally open from mid-March through mid-November and requires a reservation.Finally, if you're not the type for roughing it outside, there are also several hotels nearby, including the Motel 6 Gatlinburg, Super 8 Downtown Gatlinburg, and the Glenstone Lodge.
Once you plan where you will sleep during your adventure, the real fun begins. Great Smoky Mountains National Park contains numerous things to explore, see and do. Hiking is abundant, as there are over 850 miles of trails in the park for hiking; 70 miles of the Appalachian Trail exist within the park. Mount Le Conte is one of the most frequented destinations in the park, with an elevation of 6,593 feet. It's the third highest summit in the park and, measured from its base to its highest peak, the tallest mountain east of the Mississippi River. While on your hike, also check out some of the waterfalls Great Smoky has to offer. There are over 10 different waterfalls that you can hike to, and three more other waterfalls that are accessible by vehicle.
In addition to hiking and enjoying the scenery, fishing is a very popular activity within the park. Great Smoky Mountains National Park has about 2,900 miles of streams within its boundaries, and protects one of the last wild trout habitats in the eastern United States. Fishing is permitted year-round in the park, from 30 minutes before official sunrise to 30 minutes after official sunset. The park allows fishing in all streams; however, you must possess a valid fishing license or permit from either Tennessee or North Carolina. If you're teaching your little ones the basics of fishing, or if you're already an expert angler, the park will have something to offer for people of all ages and experience levels. Whether you catch your dinner in a natural stream, or if you're just looking to purchase and prepare something yourself, there are also limited stores and concessions stands available within the park.
After meeting all your dining needs, there are endless more opportunities to feed your fun. There are several bike loops in the area that provide prime opportunities for wildlife viewing. During the summer and fall, bicycles may be rented at the campground store, located near Cades Cove Campground. There are no mountain biking trails located at the Great Smoky Mountains National Park. Bicycles are prohibited on all trails except for the The Gatlinburg Trail, the Oconaluftee River Trail, and the lower Deep Creek Trail. However, if you would rather ride a horse than a bike, horseback riding by the hour is available from mid-March through late November at four stables in the park. You may also bring your own horse to the park , with 550 miles of the park's hiking trails open to horses. The park also offers hayrides at Cades Cove Riding Stables, and carriage and wagon rides are another option.
If you're looking to bring your furry friend along for the adventure? Dogs are allowed in campgrounds, picnic areas, and also on two small trails - the Gatlinburg Trail and the Oconaluftee River Trail. Unfortunately, pets aren't allowed on any other walking paths. Pets must be kept on a leash with a maximum length of 6 feet at all times.
The Great Smoky Mountains National Park truly has enough entertainment to keep you and the family busy for days. With so much land, iconic Appalachian nature, and abundant outdoor recreation, it's no wonder why the park is one of the most visited national parks on the east coast. Stop by for your next outing and see it for yourself!